It's not a party until the music starts playing, so turn to us for DJ services that are memorable. Raulerson DJ Services travels throughout Central Florida, including Daytona Beach, Orlando, Cocoa Beach, and Palm Coast. We also serve St. Augustine and Jacksonville in Northeast Florida and areas within 75-100 miles.
What we offer is an experience, as we work directly with the customer from the beginning of the event to the end. This lets you know we are always ready for any changes. If you need to make a change, we work with you to make the adjustment so that your event remains a success.
We take special requests from guests to play a certain song. Also, we play according to the mood in the room so we cater to all ages, providing entertainment for all ages.
Cost and Selection
When it comes to choosing the music, we let you make your own music list. Then we go over the list with you to make sure it is appropriate for the event. Our DJ only plays family music. Whether you need a wedding DJ or a party DJ, we have the guy for you. For more information about lighting effects, packages, and additional sound equipment, call or email us.
Wedding Ceremonies

-

See Quote Generator Below



Our DJ will play any music requested by the bride and groom and provide any necessary microphones, including clip-on and handheld cordless styles.
Wedding Receptions - See Quote Generator Below
When you hire us for your wedding reception, our DJ will:
Play Requested Cocktail Music
Announce the Bridal Party as they Enter Room
Play Bride & Groom's First Dance
Play Father & Daughter Dance
Play Mother & Groom Dance
Play Bridal Party Dance Song
Provide Dinner Music
Provide Wireless Microphone for the Toast
Play Cake-Cutting Song
Play Music for Dollar Dance, if Requested
Play Bride & Groom's Last Dance Song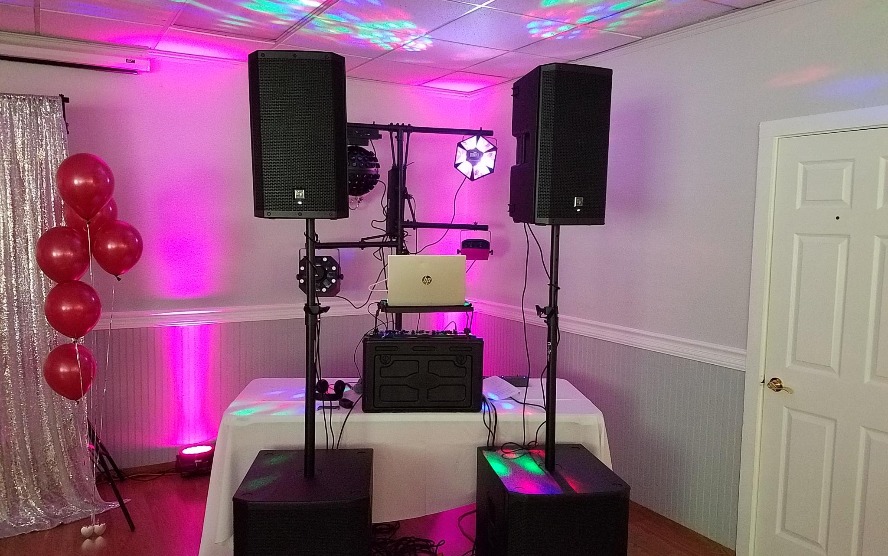 Anniversaries - See Quote Generator Below
Make your next big anniversary one for the memory books. When you hire us for an anniversary celebration, our DJ will play your requested music and assist you with any other needs.
Birthday Parties - See Quote Generator Below
Whether you're planning a birthday for yourself, a friend, or a child, a professional music service is a surefire way to ensure the party's success. Book now before our DJ's schedule fills up.
Class/Family Reunions - See Quote Generator Below
As the MC or DJ at your reunion, our DJ will:


Make Requested Announcements
Play Requested Music
Provide One Cordless Microphone
Corporate Parties - See Quote Generator Below
At your next corporate event, depend on our DJ to:


Make Requested Announcements
Play Great Music & Take Requests
Provide a Cordless Microphone if Requested
Karaoke - See Quote Generator Below
There's no better way to have fun and bond with your friends or colleagues. Contact us now to book a karaoke night.